blue 18 Board
Sliding doors
with bottom carriage system
Board construction of either 16 mm or 18 mm board, dependent on handle profile used. The universal design for Era, Rekord and Trio handles allow 12 mm chipboard and 4 mm glass to be utilised, as well as, 18 mm board.
This system also incorporates handle profiles Fiesta, Libra and Focus, which exist in 16 mm and 18 mm formats. Handle Fiesta 16 and Fiesta 18 has the additional Decor option, which means self-adhesive foils can be applied.
This system has two types of bottom track: V and C, and two types of bottom carriages – with convex wheel V and with concave wheel C. Both tracks are used with rubber finishing profiles. In this system both the top guides and bottom carriages utilise ball bearing. The special construction of the bottom carriages ensures simplicity of assembly.
Assembly
instructions
Handle
ERA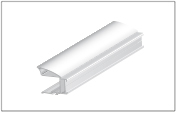 BOARD 16 mm
BOARD 18 mm
BOARD + MIRROR
| | | | | | |
| --- | --- | --- | --- | --- | --- |
| CODE | COLOUR | LENGTH(mm) | COLLECTIVE PACKAGING | PRICED PER | NET PRICE |
| 04512 | SILVER | 2700 | 20 | item | |
| 04511 | LIGHT BROWN | 2700 | 20 | item | |

Handle
RECORD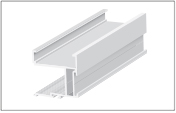 BOARD 16 mm
BOARD 18 mm
BOARD + MIRROR
| | | | | | |
| --- | --- | --- | --- | --- | --- |
| CODE | COLOUR | LENGTH(mm) | COLLECTIVE PACKAGING | PRICED PER | NET PRICE |
| 04748 | SILVER | 2700 | 20 | item | |
| 04747 | LIGHT BROWN | 2700 | 20 | item | |

Handle
FIESTA 16 – Decor C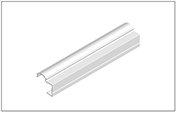 | | | | | | |
| --- | --- | --- | --- | --- | --- |
| CODE | COLOUR | LENGTH(mm) | COLLECTIVE PACKAGING | PRICED PER | NET PRICE |
| 04559 | SILVER | 2400 | 40 | item | |
| 04560 | SILVER | 2700 | 20 | item | |
| 04558 | LIGHT BROWN | 2700 | 20 | item | |

Handle
FIESTA 18 – Decor C
| | | | | | |
| --- | --- | --- | --- | --- | --- |
| CODE | COLOUR | LENGTH(mm) | COLLECTIVE PACKAGING | PRICED PER | NET PRICE |
| 04564 | SILVER | 2400 | 40 | item | |
| 04565 | SILVER | 2700 | 20 | item | |
| 04563 | LIGHT BROWN | 2700 | 20 | item | |

Handle
FOCUS 16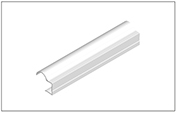 | | | | | | |
| --- | --- | --- | --- | --- | --- |
| CODE | COLOUR | LENGTH(mm) | COLLECTIVE PACKAGING | PRICED PER | NET PRICE |
| 03155 | SILVER | 2400 | 40 | item | |
| 03610 | LIGHT BROWN | 2400 | 40 | item | |
| 00483 | SILVER | 2700 | 20 | item | |
| 00482 | LIGHT BROWN | 2700 | 20 | item | |

Handle
FOCUS 18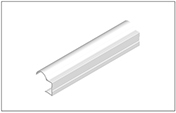 | | | | | | |
| --- | --- | --- | --- | --- | --- |
| CODE | COLOUR | LENGTH(mm) | COLLECTIVE PACKAGING | PRICED PER | NET PRICE |
| 03156 | SILVER | 2400 | 40 | item | |
| 03613 | LIGHT BROWN | 2400 | 40 | item | |
| 00490 | SILVER | 2700 | 20 | item | |
| 00488 | LIGHT BROWN | 2700 | 20 | item | |

Handle
LIBRA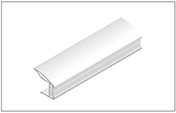 | | | | | | |
| --- | --- | --- | --- | --- | --- |
| CODE | COLOUR | LENGTH(mm) | COLLECTIVE PACKAGING | PRICED PER | NET PRICE |
| 03808 | SILVER | 2500 | 20 | item | |
| 03807 | LIGHT BROWN | 2500 | 20 | item | |
| 03446 | SILVER | 2700 | 20 | item | |
| 03506 | LIGHT BROWN | 2700 | 20 | item | |

Handle
TRIO 16/18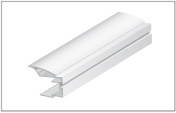 BOARD 18 mm
BOARD + MIRROR
| | | | | | |
| --- | --- | --- | --- | --- | --- |
| CODE | COLOUR | LENGTH(mm) | COLLECTIVE PACKAGING | PRICED PER | NET PRICE |
| 04510 | SILVER | 2700 | 20 | item | |
| 04509 | LIGHT BROWN | 2700 | 20 | item | |

Top track
BLUE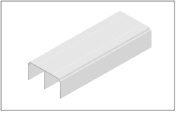 | | | | | | |
| --- | --- | --- | --- | --- | --- |
| CODE | COLOUR | LENGTH(mm) | COLLECTIVE PACKAGING | PRICED PER | NET PRICE |
| 04471 | SILVER | 1500 | 12 | item | |
| 04465 | LIGHT BROWN | 1500 | 12 | item | |
| 04472 | SILVER | 2000 | 12 | item | |
| 04466 | LIGHT BROWN | 2000 | 12 | item | |
| 04473 | SILVER | 2500 | 12 | item | |
| 04467 | LIGHT BROWN | 2500 | 12 | item | |
| 04474 | SILVER | 3000 | 12 | item | |
| 04468 | LIGHT BROWN | 3000 | 12 | item | |
| 04475 | SILVER | 4000 | 12 | item | |
| 04469 | LIGHT BROWN | 4000 | 12 | item | |
| 04476 | SILVER | 6000 | 12 | item | |
| 04470 | LIGHT BROWN | 6000 | 12 | item | |

Bottom track
BLUE-C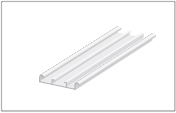 | | | | | | |
| --- | --- | --- | --- | --- | --- |
| CODE | COLOUR | LENGTH(mm) | COLLECTIVE PACKAGING | PRICED PER | NET PRICE |
| 04483 | SILVER | 1500 | 12 | item | |
| 04477 | LIGHT BROWN | 1500 | 12 | item | |
| 04484 | SILVER | 2000 | 12 | item | |
| 04478 | LIGHT BROWN | 2000 | 12 | item | |
| 04485 | SILVER | 2500 | 12 | item | |
| 04479 | LIGHT BROWN | 2500 | 12 | item | |
| 04486 | SILVER | 3000 | 12 | item | |
| 04480 | LIGHT BROWN | 3000 | 12 | item | |
| 04487 | SILVER | 4000 | 12 | item | |
| 04481 | LIGHT BROWN | 4000 | 12 | item | |
| 04488 | SILVER | 6000 | 12 | item | |
| 04482 | LIGHT BROWN | 6000 | 12 | item | |

Bottom track
BLUE-V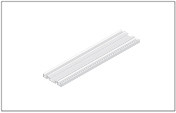 | | | | | | |
| --- | --- | --- | --- | --- | --- |
| CODE | COLOUR | LENGTH(mm) | COLLECTIVE PACKAGING | PRICED PER | NET PRICE |
| 04495 | SILVER | 1500 | 12 | item | |
| 04489 | LIGHT BROWN | 1500 | 12 | item | |
| 04496 | SILVER | 2000 | 12 | item | |
| 04490 | LIGHT BROWN | 2000 | 12 | item | |
| 04497 | SILVER | 2500 | 12 | item | |
| 04491 | LIGHT BROWN | 2500 | 12 | item | |
| 04498 | SILVER | 3000 | 12 | item | |
| 04492 | LIGHT BROWN | 3000 | 12 | item | |
| 04499 | SILVER | 4000 | 12 | item | |
| 04493 | LIGHT BROWN | 4000 | 12 | item | |
| 04500 | SILVER | 6000 | 12 | item | |
| 04494 | LIGHT BROWN | 6000 | 12 | item | |

Rubber finishing profile for bottom track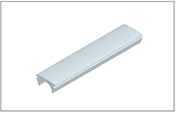 | | | | | |
| --- | --- | --- | --- | --- |
| CODE | COLOUR | COLLECTIVE PACKAGING | PRICED PER | NET PRICE |
| 20233 | TRANSPARENT | 50 r.m. | running M | |
Top carriage positioner
SIMPLE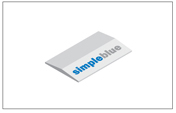 | | | | |
| --- | --- | --- | --- |
| CODE | COLLECTIVE PACKAGING | PRICED PER | NET PRICE |
| 20240 | 1 | set (100 pcs) | |
Top carriage positioner
FIX

Recommended screw: Unix 3x13 (code 20096)
| | | | |
| --- | --- | --- | --- |
| CODE | COLLECTIVE PACKAGING | PRICED PER | NET PRICE |
| 20326 | 10 | item | |
Stopper
Simple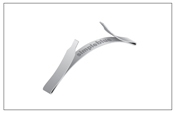 | | | | |
| --- | --- | --- | --- |
| CODE | COLLECTIVE PACKAGING | PRICED PER | NET PRICE |
| 10163 | 100 | item | |
Guiding carriage
BLUE 18 Board
asymmetrical
(Set 2 pcs)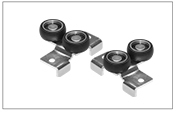 Offer comprises of left and right carriage
| | | | |
| --- | --- | --- | --- |
| CODE | COLLECTIVE PACKAGING | PRICED PER | NET PRICE |
| 10217 | 200 | set | |

Bottom carriage
BLUE 18 V Board
(Set 2 pcs)
| | | | |
| --- | --- | --- | --- |
| CODE | COLLECTIVE PACKAGING | PRICED PER | NET PRICE |
| 10219 | 50 | set | |

Bottom carriage
BLUE 18 C Board
(Set 2 pcs)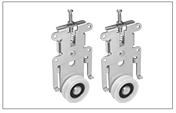 | | | | |
| --- | --- | --- | --- |
| CODE | COLLECTIVE PACKAGING | PRICED PER | NET PRICE |
| 10220 | 50 | set | |

Angle section
MINI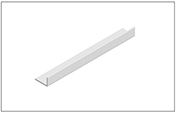 BOARD 16 mm
BOARD 18 mm
BOARD + MIRROR
| | | | | | |
| --- | --- | --- | --- | --- | --- |
| CODE | COLOUR | LENGTH(mm) | COLLECTIVE PACKAGING | PRICED PER | NET PRICE |
| 00102 | SILVER | 1700 | 120 | item | |
| 00093 | LIGHT BROWN | 1700 | 120 | item | |
| 00103 | SILVER | 2350 | 120 | item | |
| 00094 | LIGHT BROWN | 2350 | 120 | item | |
| 00104 | SILVER | 3000 | 120 | item | |
| 00095 | LIGHT BROWN | 3000 | 120 | item | |

H-profile
H25/16 SIMPLE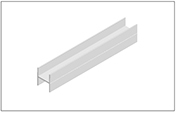 BOARD 16 mm
BOARD + MIRROR
| | | | | | |
| --- | --- | --- | --- | --- | --- |
| CODE | COLOUR | LENGTH(mm) | COLLECTIVE PACKAGING | PRICED PER | NET PRICE |
| 03939 | SILVER | 3000 | 30 | item | |
| 03938 | LIGHT BROWN | 3000 | 30 | item | |

H-profile
H21/18 SIMPLE

| | | | | | |
| --- | --- | --- | --- | --- | --- |
| CODE | COLOUR | LENGTH(mm) | COLLECTIVE PACKAGING | PRICED PER | NET PRICE |
| 04447 | SILVER | 3000 | 30 | item | |
| 04446 | LIGHT BROWN | 3000 | 30 | item | |

H-profile
H12/16 SIMPLE

| | | | | | |
| --- | --- | --- | --- | --- | --- |
| CODE | COLOUR | LENGTH(mm) | COLLECTIVE PACKAGING | PRICED PER | NET PRICE |
| 04504 | SILVER | 3000 | 60 | item | |
| 04503 | LIGHT BROWN | 3000 | 60 | item | |

H-profile
H12/18 SIMPLE

| | | | | | |
| --- | --- | --- | --- | --- | --- |
| CODE | COLOUR | LENGTH(mm) | COLLECTIVE PACKAGING | PRICED PER | NET PRICE |
| 04506 | SILVER | 3000 | 60 | item | |
| 04505 | LIGHT BROWN | 3000 | 60 | item | |

H-profile
H08/16 SIMPLE

| | | | | | |
| --- | --- | --- | --- | --- | --- |
| CODE | COLOUR | LENGTH(mm) | COLLECTIVE PACKAGING | PRICED PER | NET PRICE |
| 03935 | SILVER | 3000 | 60 | item | |
| 03934 | LIGHT BROWN | 3000 | 60 | item | |
H-profile
H08/18 SIMPLE

| | | | | | |
| --- | --- | --- | --- | --- | --- |
| CODE | COLOUR | LENGTH(mm) | COLLECTIVE PACKAGING | PRICED PER | NET PRICE |
| 00199 | SILVER | 3000 | 60 | item | |
| 01877 | LIGHT BROWN | 3000 | 60 | item | |

H-profile
H04/18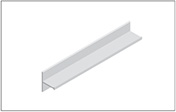 | | | | | | |
| --- | --- | --- | --- | --- | --- |
| CODE | COLOUR | LENGTH(mm) | COLLECTIVE PACKAGING | PRICED PER | NET PRICE |
| 01710 | SILVER | 3000 | 60 | item | |
| 01711 | LIGHT BROWN | 3000 | 60 | item | |

T-profile
12-Simple

BOARD 16 mm
BOARD 18 mm
BOARD + MIRROR
| | | | | | |
| --- | --- | --- | --- | --- | --- |
| CODE | COLOUR | LENGTH(mm) | COLLECTIVE PACKAGING | PRICED PER | NET PRICE |
| 04502 | SILVER | 3000 | 60 | item | |
| 04501 | LIGHT BROWN | 3000 | 60 | item | |

TEXTILE DOOR STOP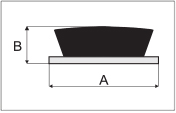 | | | | | | | | | |
| --- | --- | --- | --- | --- | --- | --- | --- | --- |
| CODE | COLOUR | A (mm) | B (mm) | INSTALLATION | ROLL LENGTH | COLLECTIVE PACKAGING | PRICED PER | NET PRICE |
| 20094-SV | GREY | 14 | 4 | inserted | 200 r.m. | 4 rolls | running M | |
| 20224-SV | GREY | 14 | 4 | inserted | 50 r.m. | 10 rolls | roll | |
| 20020-SV | GREY | 4,8 | 4 | inserted | 550 r.m. | 4 rolls | running M | |
| 20225-SV | GREY | 4,8 | 4 | inserted | 100 r.m. | 10 rolls | roll | |
| 20023-SV | GREY | 4,8 | 4 | self-adhesive | 550 r.m. | 4 rolls | running M | |
| 20228-SV | GREY | 4,8 | 4 | self-adhesive | 100 r.m. | 10 rolls | roll | |

ANTI-DUST BRUSH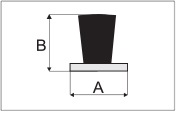 | | | | | | | | | |
| --- | --- | --- | --- | --- | --- | --- | --- | --- |
| CODE | COLOUR | A (mm) | B (mm) | INSTALLATION | ROLL LENGTH | COLLECTIVE PACKAGING | PRICED PER | NET PRICE |
| 20027-SV | GREY | 6,7 | 13 | self-adhesive | 200 r.m. | 3 rolls | running M | |
| 20024-SV | GREY | 4,8 | 13 | inserted | 200 r.m. | 4 rolls | running M | |
| 20227-SV | GREY | 6,7 | 13 | self-adhesive | 50 r.m. | 12 rolls | roll | |
| 20226-SV | GREY | 4,8 | 13 | inserted | 50 r.m. | 10 rolls | roll | |

Screws
UNIX

| | | | | | |
| --- | --- | --- | --- | --- | --- |
| CODE | NAME | DIMENSIONS (mm) | COLLECTIVE PACKAGING | PRICED PER | NET PRICE |
| 20107 | COUNTERSUNK SCREW UNIX | 3×13 | 20 | set (100 pcs) | |