simple 18 Frame
Twin track sliding doors
with bottom carriage system
Frame construction designed for 18 mm fillings. Fastening blocks make it fast and easy to fit and secure 4 mm – 4.5 mm glass fillings.
The utilisation of H21 & H28 SIMPLE mid-rails allows the easy creation of doors combining both 18mm board and 4 mm – 4.5 mm glass fillings. The ability to securely screw H28 mid-rails to the handle profile additionally increases door rigidity.
Thanks to the use of narrow tracks, bottom track (44 mm) and top track Simple (68 mm), the distance between the door wings is reduced, which means that the space taken up by the system is minimal. Our new handle Libra is dedicated for this system, available in silver and light brown.
Assembly
instructions
Handle
LIBRA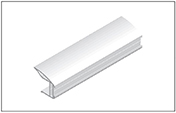 BOARD 18mm
GLASS 4,5mm
MIRROR 4mm
| | | | | | |
| --- | --- | --- | --- | --- | --- |
| CODE | COLOUR | LENGTH(mm) | COLLECTIVE PACKAGING | PRICED PER | NET PRICE |
| 03808 | SILVER | 2500 | 20 | item | |
| 03807 | LIGHT BROWN | 2500 | 20 | item | |
| 03446 | SILVER | 2700 | 20 | item | |
| 03506 | LIGHT BROWN | 2700 | 20 | item | |

Top horizontal profile
SIMPLE Frame II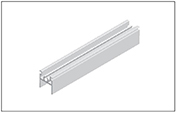 BOARD 18mm
GLASS 4,5mm
MIRROR 4mm
| | | | | | |
| --- | --- | --- | --- | --- | --- |
| CODE | COLOUR | LENGTH(mm) | COLLECTIVE PACKAGING | PRICED PER | NET PRICE |
| 04460 | SILVER | 1500 | 24 | item | |
| 04456 | LIGHT BROWN | 1500 | 24 | item | |
| 04461 | SILVER | 2000 | 24 | item | |
| 04457 | LIGHT BROWN | 2000 | 24 | item | |
| 04462 | SILVER | 2500 | 24 | item | |
| 04458 | LIGHT BROWN | 2500 | 24 | item | |
| 04463 | SILVER | 3000 | 24 | item | |
| 04459 | LIGHT BROWN | 3000 | 24 | item | |

Bottom horizontal profile
SIMPLE Frame II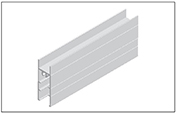 BOARD 18mm
GLASS 4,5mm
MIRROR 4mm
| | | | | | |
| --- | --- | --- | --- | --- | --- |
| CODE | COLOUR | LENGTH(mm) | COLLECTIVE PACKAGING | PRICED PER | NET PRICE |
| 04452 | SILVER | 1500 | 12 | item | |
| 04448 | LIGHT BROWN | 1500 | 12 | item | |
| 04453 | SILVER | 2000 | 12 | item | |
| 04449 | LIGHT BROWN | 2000 | 12 | item | |
| 04454 | SILVER | 2500 | 12 | item | |
| 04450 | LIGHT BROWN | 2500 | 12 | item | |
| 04455 | SILVER | 3000 | 12 | item | |
| 04451 | LIGHT BROWN | 3000 | 12 | item | |

Top track
SIMPLE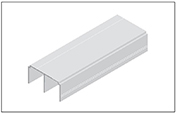 | | | | | | |
| --- | --- | --- | --- | --- | --- |
| CODE | COLOUR | LENGTH(mm) | COLLECTIVE PACKAGING | PRICED PER | NET PRICE |
| 03715 | SILVER | 1500 | 12 | item | |
| 03716 | LIGHT BROWN | 1500 | 12 | item | |
| 03714 | SILVER | 2000 | 12 | item | |
| 03713 | LIGHT BROWN | 2000 | 12 | item | |
| 03726 | SILVER | 2500 | 12 | item | |
| 03723 | LIGHT BROWN | 2500 | 12 | item | |
| 03400 | SILVER | 3000 | 12 | item | |
| 03718 | LIGHT BROWN | 3000 | 12 | item | |
| 03727 | SILVER | 4000 | 12 | item | |
| 03724 | LIGHT BROWN | 4000 | 12 | item | |
| 03469 | SILVER | 6000 | 12 | item | |
| 03584 | LIGHT BROWN | 6000 | 12 | item | |

Bottom track
SIMPLE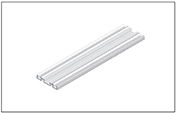 | | | | | | |
| --- | --- | --- | --- | --- | --- |
| CODE | COLOUR | LENGTH(mm) | COLLECTIVE PACKAGING | PRICED PER | NET PRICE |
| 03712 | SILVER | 1500 | 12 | item | |
| 03711 | LIGHT BROWN | 1500 | 12 | item | |
| 03710 | SILVER | 2000 | 12 | item | |
| 03709 | LIGHT BROWN | 2000 | 12 | item | |
| 03728 | SILVER | 2500 | 12 | item | |
| 03722 | LIGHT BROWN | 2500 | 12 | item | |
| 03427 | SILVER | 3000 | 12 | item | |
| 03717 | LIGHT BROWN | 3000 | 12 | item | |
| 03729 | SILVER | 4000 | 12 | item | |
| 03725 | LIGHT BROWN | 4000 | 12 | item | |
| 03470 | SILVER | 6000 | 12 | item | |
| 03589 | LIGHT BROWN | 6000 | 12 | item | |
Rubber finishing profile for bottom track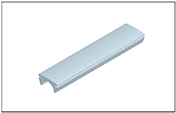 | | | | | |
| --- | --- | --- | --- | --- |
| CODE | COLOUR | ROLL LENGTH | PRICED PER | NET PRICE |
| 20233 | TRANSPARENT | 50 r.m. | running M | |
Top carriage positioner
SIMPLE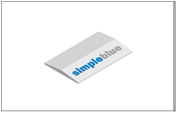 | | | | |
| --- | --- | --- | --- |
| CODE | COLLECTIVE PACKAGING | PRICED PER | NET PRICE |
| 20240 | 1 | set (100 pcs) | |
Top carriage positioner
FIX

Recommended screw: Unix 3x13 (code 20096)
| | | | |
| --- | --- | --- | --- |
| CODE | COLLECTIVE PACKAGING | PRICED PER | NET PRICE |
| 20326 | 10 | item | |
Guiding carriage
SIMPLE 18-Frame
(Set 2 pcs)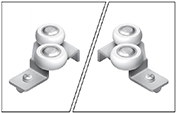 Offer comprises of left and right carriage
| | | | |
| --- | --- | --- | --- |
| CODE | COLLECTIVE PACKAGING | PRICED PER | NET PRICE |
| 10156 | 200 | SET | |

Bottom carriage
SIMPLE / BLUE 10V
(Set 2 pcs)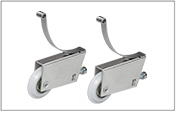 | | | | |
| --- | --- | --- | --- |
| CODE | COLLECTIVE PACKAGING | PRICED PER | NET PRICE |
| 10223 | 50 | SET | |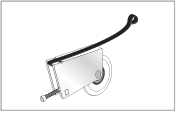 Stopper
SIMPLE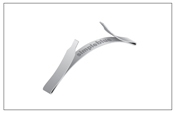 | | | | |
| --- | --- | --- | --- |
| CODE | COLLECTIVE PACKAGING | PRICED PER | NET PRICE |
| 10163 | 100 | item | |
Fastening block for glass
SIMPLE Frame 40 mm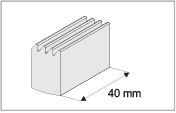 | | | | |
| --- | --- | --- | --- |
| CODE | COLLECTIVE PACKAGING | PRICED PER | NET PRICE |
| 20234 | 50 | set (40 pcs) | |
Mid-rail
H21/18 SIMPLE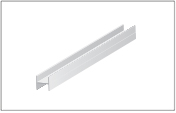 BOARD 18mm
GLASS 4,5mm
MIRROR 4mm
| | | | | | |
| --- | --- | --- | --- | --- | --- |
| CODE | COLOUR | LENGTH(mm) | COLLECTIVE PACKAGING | PRICED PER | NET PRICE |
| 04447 | SILVER | 3000 | 30 | item | |
| 04446 | LIGHT BROWN | 3000 | 30 | item | |

Mid-rail
H28/18 SIMPLE
BOARD 18mm
GLASS 4,5mm
MIRROR 4mm
| | | | | | |
| --- | --- | --- | --- | --- | --- |
| CODE | COLOUR | LENGTH(mm) | COLLECTIVE PACKAGING | PRICED PER | NET PRICE |
| 04445 | SILVER | 3000 | 30 | item | |
| 04444 | LIGHT BROWN | 3000 | 30 | item | |

TEXTILE DOOR STOP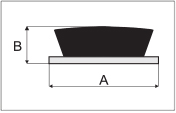 | | | | | | | | | |
| --- | --- | --- | --- | --- | --- | --- | --- | --- |
| CODE | COLOUR | A (mm) | B (mm) | INSTALLATION | ROLL LENGTH | COLLECTIVE PACKAGING | PRICED PER | NET PRICE |
| 20094-SV | GREY | 14 | 4 | inserted | 200 r.m. | 4 rolls | running M | |
| 20224-SV | GREY | 14 | 4 | inserted | 50 r.m. | 10 rolls | rolls | |

Screws
UNIX & SELF-TAPPING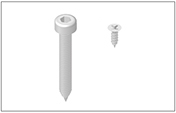 | | | | | | |
| --- | --- | --- | --- | --- | --- |
| CODE | NAME | DIMENSIONS(mm) | COLLECTIVE PACKAGING | PRICED PER | NET PRICE |
| 20107 | COUNTERSUNK SCREW UNIX | 3×13 | 20 | set (100 pcs) | |
| 20001 | SELF-TAPPING SCREW | 6,3×32 | 2000 | item | |